TBS Vendetta Camera Tilt 20-40&deg - VEND-CAMTILT
Product options available below
Need a platform for your Vendetta to tilt the Mobius or RunCam up while racing? This is a simple but rugged platform to hold the recording camera to the front-top of the TBS Vendetta quadcopter.
The platform comes in multiple versions, select from 20° all the way up to 40°.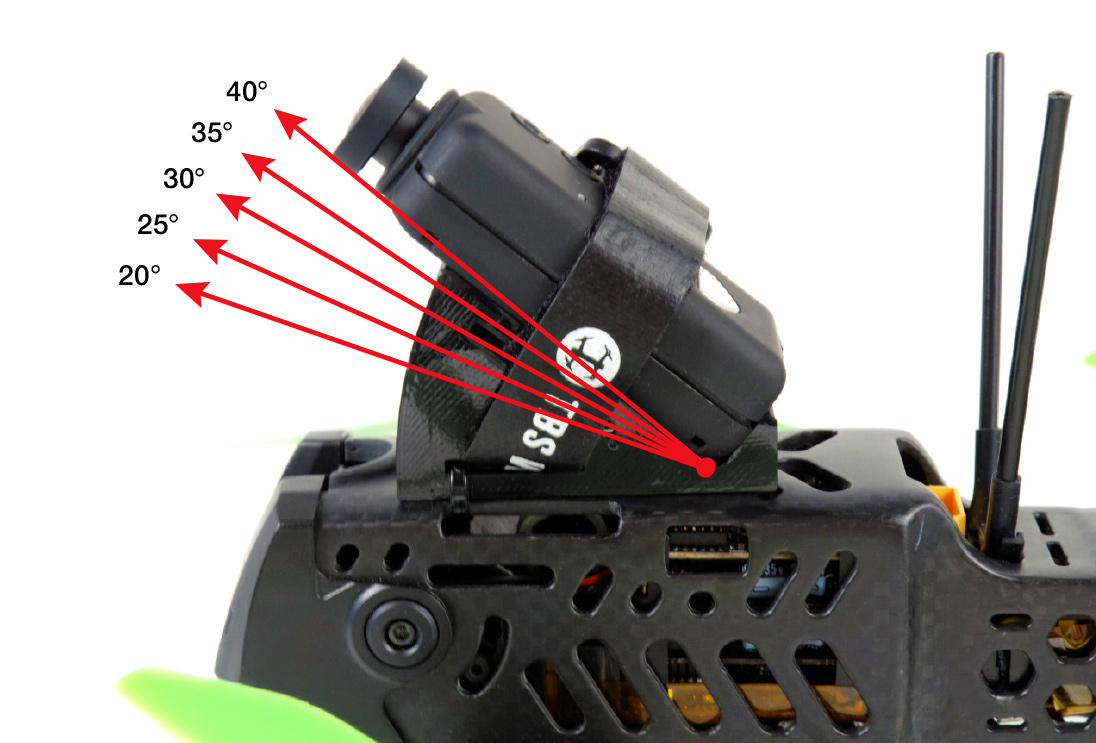 There are two slots on either side to secure it to the frame. We recommend cable ties for the lower ones and loop-and-hook straps for the camera itself. On the 20 and 25 degree platforms you can even just use the straps directly between the frame and camera.
On the bottom of the platform are two tabs that aligns with the corresponding holes on the frame, this makes sure it will not move side-to-side or back-to-forth while in flight.
Note: This product is 3D printed and will have minor insignificant extrusion lines/defects.
Features
Tilts Mobius, RunCam and similar camera up
Multiple models available; 20°, 25°, 30°, 35°, and 40°
Wide slots to secure the camera and platform to the frame
Additional tabs secures it to the frame
Extra thick to provide a robust platform
Installs in two positions on the frame
Specifications
Product ID: VEND-CAMTILT
Released: March 2017
Platform: TBS Vendetta Quadrotor
Camera support: Mobius, RunCam, and similar sized cameras
Mounting: Cable ties (included) and/or loop-and-hool straps
Material: ABS thermoplastic
Size: L52 x W33 x H27 mm (25&deg model)
Weight: 15 grams