QAV210/QAV250 10° Motor and FC Tilt Kit - QAV250-TILT10
Product options available below
Released: November 2014 - Update: September 2015 QAV210 Supported
Want to see where you are flying? This upgrade kit tilts both the motors and flight controller 10° degrees forward. In hover the platform is leaning back but put in a little forward pitch and the platform will level out. The improved aerodynamic profile reduces the exposed surface and drag, meaning faster top speed.
Perfect for fast forward flight and racing where you want to avoid "duck" up and down to look where you are going.
Contains all you need including suitable length countersunk head hex screws. It includes the flight controller tilt adapter but this can also be programmed electronicaly via the Baseflight configuration tool.
When mounting this kit, the screw heads will also have a slight tilt and not sit flat against the arm. A shallow grove might be pressed into the frame.
If you don't want to use the tilted flight controller platform, configure the FC with the following commands:
Naze32: Go to CLI and type set align_board_pitch = -10
OpenPilot: Open GCS, go to INS and change the Pitch to -10
Installation diagram: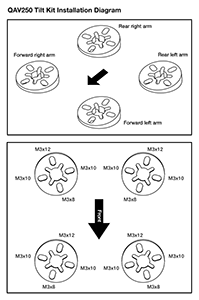 Note: This product is 3D printed and will have minor insignificant extrusion lines/defects.
Features
Tilts the motors for better FPV angle during fast forward flight
Motors mounted with suitable button socket screws
Flight controller tilt plate makes install plug&play
Extra large mounting holes to accommodate the tilted finish
Handles 3S and 4S builds easy
No flight controller re-configuration needed
Specifications
Product ID: QAV250-TILT10
Revision: Rev. 4 November 2014
Platform: QAV210 and QAV250 quadcopter
Motor size: 2206 class motors
Tilt angle: 10° degrees
Flight controller platform: NAZE32 and OpenPilot (different boards)
Mounting screws: M3 16x total, 4x per motor (8, 10, 12mm), 4x for flight controller (12, 20mm)
Material: ABS thermoplastic
Weight: 25.0 grams
Demo
A couple of videos of Juz (Team Lumenier/GetFPV) flying with the tilted motor mounts.