Mini-ANL/MIDI/AFC Fuse Holder - MINI-ANL-HLDR
Product options available below
This is a small and compact Mini-ANL/MIDI/AFC fuse holder for 4 to 10 AWG/guage cable lugs. It comes with steel mounting posts and a cover to protect the fuse once it is installed. There is a opening in the cover to check the state of the fuse.
The special thing about this holder is that it accepts proper cable lugs instead of just the normal screw-tighed stripped cable-ends. The screw posts are M5 and comes with a wide 12mm base washer, toothed shakeproof washer and serrated flanged nut for secure installation.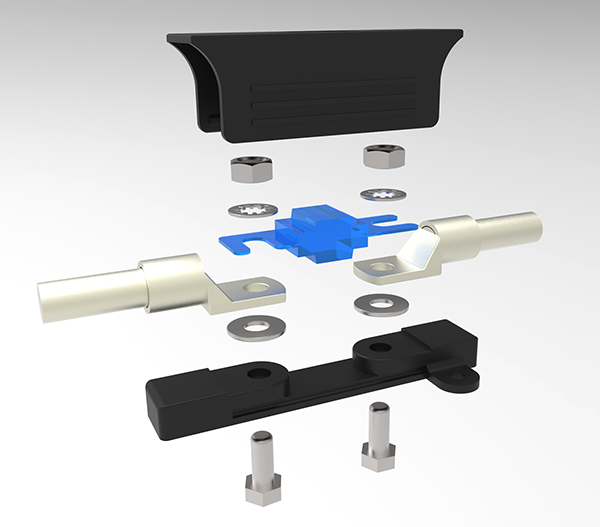 Note: This product is 3D printed and will have minor insignificant extrusion lines/defects.
Features
Small and compact Mini-ANL/MIDI/AFC fuse block holder
Accepts any 5mm ID and 12mm wide cable lugs
Securely locked by shakeproof washer and serrated nut
Cover protects against accidental shortcirtuits and bumps
Perfect for solar, car, audio and boat electrical installations/li>
Specifications
Product ID: MINI-ANL-HLDR
Revision: March 2016
Fuse type: Mini-ANL, up to 150A
Cable lug width: up to 12mm, but wider without cover
Screw posts size: M5/5mm diameter
Mounting screws: 2x3mm
Size: L77 x W16 x H19 mm
Weight: 25 grams