LC Common Mode Power Filter - LPF-01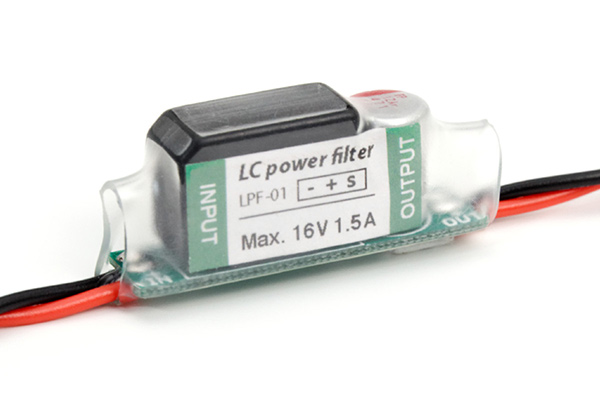 Note: This is the original LC Common Mode LC Filter, made by strict quality standards to give you the best experience. Avoid other versions similar to this filter.
Update March 2013: It is now possible to select between common mode and differential mode filtering. A solder jumper pad on the input side disables filtering on the negative/ground-lead. If you experience issue with OSD systems, try changing the filter to differential mode. Photo of solder jumper location
This is a compact and effective LC filter designed to clean a noisy DC power supply. Perfect for sensitive FPV- and RC-components in a single battery setup. The filter has properties to reduce the effects of interference radiated through the air and noise conducted via the power wires. One advantage of this filter is that both the negative and positive leads are filtered (common mode).
Suitable for setups up to maximum 16V and 1.5A (1500mA) load. The 3-pin input allows for a single bypass-signal. Custom configuration of leads length and connectors are available.
Problems often occur on sensitive FPV video systems when long power leads (15cm+) are used, limited space for wiring, improperly filtered transmitters, noise from speed controller or switch mode DC-DC voltage converter, or most commonly a shared battery is used to minimize weight. The interference can result in video lines, banding, random drop-outs, and reduced transmission range. A low-pass LC-filter will help attenuation most of the high frequency power supply noise and interference.
A common-mode choke coil is used to provide large impedance (resistance) against common-mode current noise picked up by both power leads. It is more effective for noise suppression than conventional ferrite ring and differential-mode inductor setups. This means that noise coming in on both wires will canceled each other out leaving only the regular differential-mode current flowing through the choke.
The large series inductor will give good current noise suppression between the input and output. Low resistance of the coils cause only minimum voltage drop over the filter (<200mV) and the low-ESR capacitor used will ensure efficient ripple voltage (noise) reduction (<120mVpk-pk).
Only known brand and quality parts are used to offer the great filtering properties. Every filter is tested before being shipped out.
Tips: A cascade connection of two or more filters will improve the filtering characteristics to the n-nth order, making the cut-off frequency slope sharper (less noise passing the 127 Hz mark).
"An amazing filter. I was using the other LC filter for sale here and it is good, this one is better. I have some noisy UBECs and Stepup/dn transformers that this thing cleans up dramatically. I am able to take a transformer with 120mv ripple down to 12-14mv ripple. This is the best I've found." - Alan Kubiak, readymaderc.com customer
"I received the unit and gave it a quick test, quite impressed with the performance." - Trappy, Team BlackSheep
Photos
Specifications
Product ID: LPF-01
Revision: Rev3 March 2013
Type: passive common-mode low-pass power ripple filter
Modes: common mode, differential mode - jumper selectable
Maximum voltage: 16V DC
Maximum current: ~1.5A
Cutoff frequency at -3dB: 127 Hz (attenuates higher frequencies/noise)
Voltage drop over filter: 180mV at 900mA
Maximum voltage ripple: 120mV
Capacitor: Japanese Aluminum Polymer 105°C Capacitor

Impedance/ESR: 0.012 Ohm at 100kHz/16V
Ripple current: 5000mA rms

Choke: German Common-mode Choke

Series resistance (DC): 0.205 Ohm/path

Wire / trace thickness: twisted 22 AWG / 32 mils
Connector: mini-JST, glue reinforced connection
Operating temperature: -40 °C to +105 °C
Dimensions: 37.7 L x 8.8 W x 14.5 H mm
Weight: 8.1 grams (inc. JST connectors)
RoHS compliant
Designed and made in Europe
Customize and purchase
You can customize the adapter and have it shipped to you. There are several possible connectors available to pick from to fit your current setup.
Update: Currently only JST 5 cm connector is available!