FPV Light Bar - LED Strip - FPV-LIGHTBAR
Product options available below
Released: November 2015
Want to get noticed when you whizz by someone or need to be distinguised in a race? This is a 16 RGB LED strip with an adhesive backing to make it easy to attached to any surface. You can change the color of the lights with a button on the controller board. Over 10+ different colors and sequences are preprogrammed.
The LED strip is flexible and can be bend to fit any frame. The controller board is protected against bumps and crashes by a transparent heat-shrink tube. It connects easily to any +5V receiver port using a regular servo-connector (only the power and ground is used on the cable).
Note: The maximum input voltage is 5.3V and works best when connected to a 5V BEC or ESC
If you connect the light bar to a R/C receiver, the BEC/ESC must be capable of delivering 960 mA on top of the normal load from the receiver, flight controller, servos, etc.
Bonus: there is an option to add an ADXL345 accelerometer to make the LEDs turn to a different color when the multirotor tilts, e.g. when you slow down or accelerated.
The default LED sequence - cycled by pressing the button: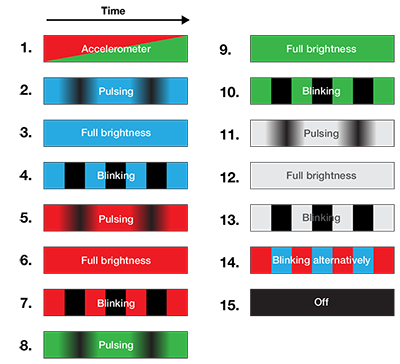 Features
Super bright lights to illuminate the surrudings and getting noticed
Easily switch between over 10 different colors and blink sequences
Connects easily to an existing R/C setup - directly to the receiver
Protected against crashes and bumps
Specifications
Product ID: FPV-LIGHBAR
Revision: November 2015
Lights: 16 RGB LEDs
Input voltage: 3.5 to 5.3V
Max load current: 960mA
Modes: 12 sequences
Connector: 3-pin servo connector (only power+gnd used)