ESP8266 FIOR Mini Development Board - ESPFIOR
Released: July 2017, finished July 2015
This is a small development board for the ESP8266 ESP-01 IoT device. It brings out all the pins, has on-board 3.3V regulator, FTDI level-shifting for programming and updating the device (FTDI adapter required).
It fits perfectly on a breadboard, provides 3.3V ower pins for connecting other devices (sensors, switches, memory, etc.). It also has a reset button for quick rebooting instead of having to cut the power, furthermore you can reset the board by toggling the DRT pin in your terminal program!
Jumper pads to disable the LDO regulator externally and current measurement pads are available on the bottom side. A LiPo battery can be connected to a JST PH-connector for portable or field testing. USB charging option will also be available soon.
When you are finish prototyping on a breadboard, you can make the assembly very compact by dropping the pin socket and soldering the ESP-01 directly to the FIOR board - providing a very low profile with all the necessary pins still easily accessable.
This kit comes with the FIOR board and an unsoldered 8-pin socket.
Usage: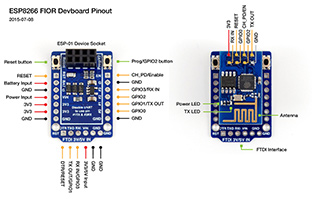 Features
Small and compact development board for the ESP-01 device
Brings out all the pins available
Provides extra power pins for external devices
Standard FTDI port for updates and terminal interface
Tactile reset button as well as DTR coupled reset line
Low quiescent current power supply
LDO Enable pads for external FIOR control
On-board 3.3V 300mA LDO regulator
Battery connector for standalone LiPo, cell or AA/AAA operation
Standard FTDI 3V/5V port for firmware upgrades and serial terminal debugging
Limited ground pour for best possible wireless signal conditions
Programming button for easy firmware upgrades
3V and 5V compatible
Compact and small for permanent installs
Specifications
Product ID: ESPFIOR
Released: July 2015
Module support: ESP8266 ESP-01 with 8-pin header
Pin pitch: 0.1"/2.54mm
Interface: FTDP, 3.3V or 5V supported
Input power: 3.0V to 5.5V
Max output current: 300mA (3.3V LDO)
Idle current: x mA
Battery connector: JST-PH
Weight: 12 grams